For another action-packed adventure today on Sardis Lake. He started the morning nice, as usual, then was verbally abusing me by the end of the day, something along the lines of @&!#^)$ Yankees
. I'm kidding of course, feelay's a load of fun to be around, but he threw-in a jab now and then....usually when I tried boating fish
. It's pretty comical, and I even had to laugh at myself.
Morning started-out with a pretty decent bite, it was nice on the water, then the wind kicked-up. As the afternoon wore-on, the bite diminished. Well, it pretty much ceased for me, but feelay was still managing to sneak one under the boat from my side now and then. Still trying to figure out how he managed that?
Final count was 32, no whoppers, but all nice fish regardless, and regardless if and who caught a "cigar fish", I still had a ball. Thanks again feelay, and be sure and thank the Mrs. for the sweets (which are all but gone). I had 3 fillets that somehow wouldn't fit into the last Baggie, so they went straight to the pan, then got a dose of Louisiana Hot Wing Sauce when they came out. Pretty tasty!
Jigflinger was waiting at the bus when we got back, and had some CDC stickers and a Calender for me, thanks again for those Gary, and was good to see you again
.
I even got to witness the Ceremonial "Passing of the Golden Rule" from jigflinger to feelay....it was an honor to be in its presence. I only wished I'd have taken a picture for all to see, it was awesome!
Thanks again to both you guys!
No, Brad Pitt didn't fish Sardis today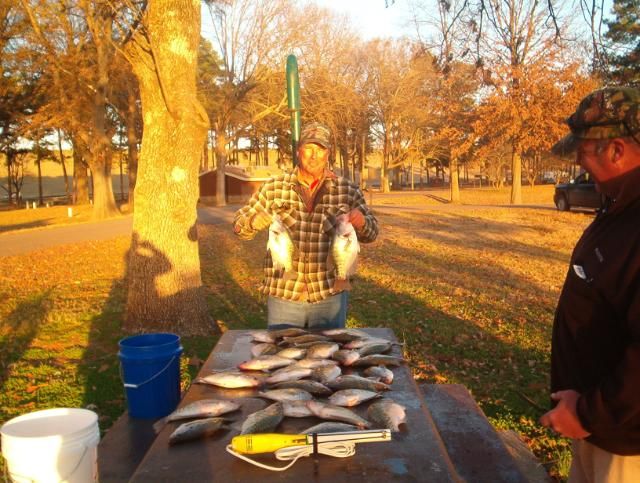 My 1st Blacknose