Had a pretty good turnout this morning and met up with a bunch of hard working strangers. Guys started showing up at 5, had some introductions and commenced to start loading brush. Turns out we ended up shooting most of the brush on with 3" Galvanized nails that made for some fast building. We built 4 up and loaded them on the trailer then launched three boats. Two to drop and a nice Ranger Captained by Steve that made sure all piles got marked on a GPS. ('twas a Lowrance, woot!)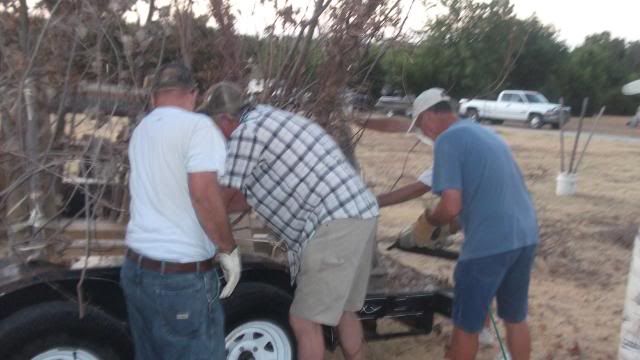 This is Bill and Bighook, taking out the first load: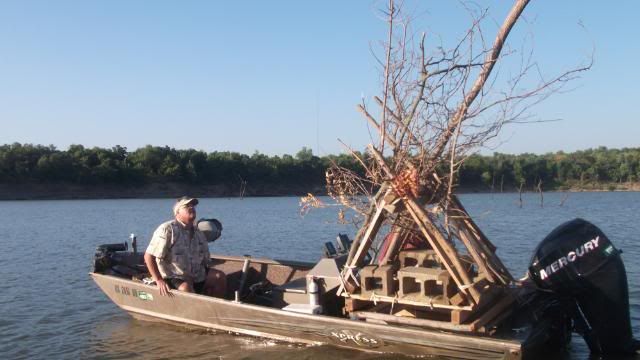 This is Gary and Kevin in my boat, coming in for their first load: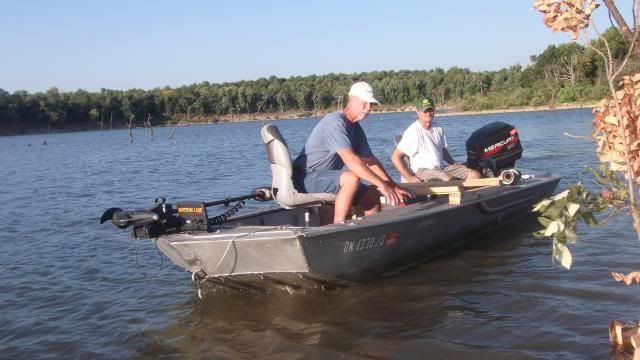 Had more than enough blocks as we tied two whole and two halves per pallet. Notice the trailer back into the water. It made it easy for the deployment team to just pull their boats in to load up: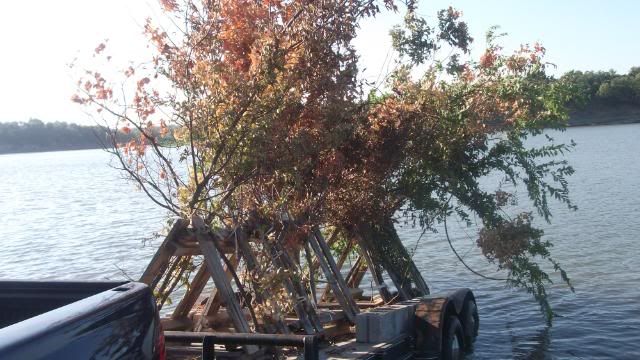 This guy is Carl, major help in the deployment loading: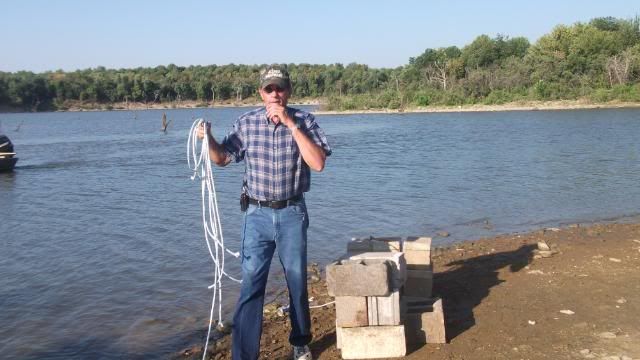 Meat dragger, true to his name, dragged in late, but jumped in to help Carl out not to mention, our GPS SD card Guru. Glad one of us knew how to handle the waypoints: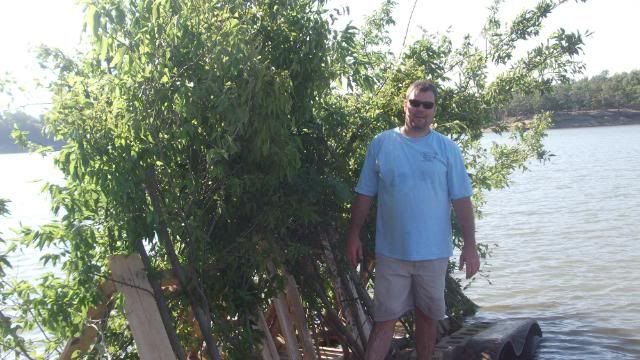 Crappie Whisperer, aka, Kevin was the Captain of my boat for the deployment. Him and Gary did a great job! I've been so busy the last three nights getting this ready, that I forgot to put gas in the boat and they had to be towed in after they dropped their last pallet of brush. So sorry guys, I could hear you blowing that A-Ooo-Gah horn I have on the boat and was pointing the other two boats towards you: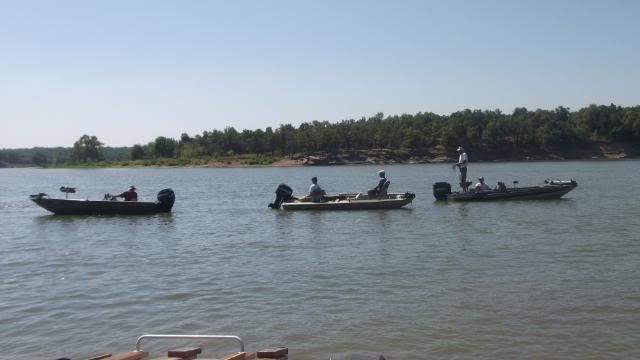 This is Chuck, his fishin buddy Chuck dragged him out after reading up about this shindig on the forum. One hard working guy!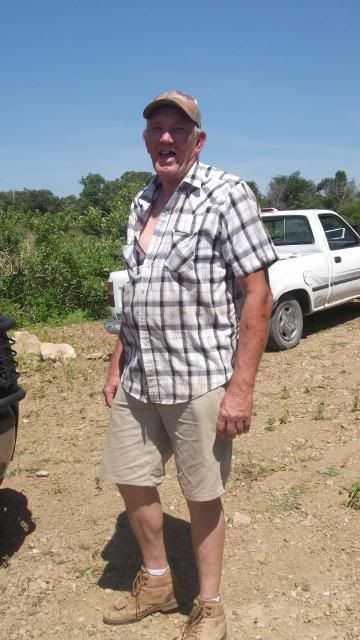 My very good friend Bobby talking with Robert (Meatdragger) after all pallets in or on the water:
Special thanks to Dick, (Minnow Man) who came out early and brought an entire spool of new rope, and helped get us off on the right track.
Also to BossHog who couldn't make it due to a death of a family friend. (got your shirt for you)
My very good friend Bill who might cuss you as you boat by, but has a heart of gold and can run circles around me when it comes to working hard. Bills boat was the other boat in the deployment.
Doug Owens, (Deerhunter Odie) who brought me some copper wire we never used, but will on other drops in the future (or end up as cash sold for scrap, HA)
Bighook whom I've spoke with many times by text and phone. Pleasure to finally meet you Tony!
CrappieDentist, (Jake) who supplied the pallets. It was all we could handle Jake, give me a call when you need to git rid of more.
If I've missed anyone, just chime in. I'll be doing ok to remember my name after all this.
All in all we were able to build, move, and drop 25 brushpiles by 11:15. Went over by a couple of hours from what I first thought, but the entire gang was spread out doing their part. It all came together very well and I could not be happier. I can't wait to drop a jig in each one of them!
Thanks gang! We'll have to do it again when it's cooler and plan a fish fry to boot.
Craig