We are fairly new to the whole summer fishing for crappie thing to be honest, but thanks to a little trial and error and a lot of reading on crappie.com were getting the hang of it.
When I say we I am referring to my fishing partner and my best friend, my 10 year old son Luke. Last year one of our best days came on a 90 plus degree day long lining crankbaits and roadrunners in August. Close to one year later we still talk about it like it was just yesterday, its a memory that will last a lifetime. We stopped counting at 100 crappie pulled in and had enough in the cooler in a short amount of time for several good meals. Another one of our best memories happened earlier that summer, June to be honest, I had the thrill of watching Luke land his biggest crappie to date while once again trolling crankbaits and roadrunners, he caught a beautiful 15 inch white crappie on a 200 series bandit. Now I have netted a lot of fish in my life, but none more memorable than his crappie, the look of Joy and excitement that ran across his face, and the high fives that spontaneously happened when we boated that fish will forever be burnt in to my memory.
We have learned a lot about crappie fishing in the summer months thanks in big part to a lot of helpful people on this very web site, but more importantly we have learned a lot about each other thanks in huge part to our time together crappie fishing. The thing we have learned about crappie fishing in the summer months is that it pays to be versatile in your techniques. in the summer months we have had success long line trolling crankbaits, roadrunner crappie thunders, tubes, and twisty tail grubs. Slow vertical trolling double minnow/jig rigs. Casting jigs, counting them down to a certain depth and reeling them back at a steady pace. even dead sticking stingers or slip floating minnows right on top of brush piles or structure has produced for us. We aren't professionals at all of these methods, or any of them to be honest, but we are willing to listen to advice from anyone who chases crappie in the summer months and apply it to our summer fishing trips.
We are willing to search the threads of crappie.com, and any other information we can get our hands on. in short we are willing to be versatile, willing to listen, willing to share anything we can, and willing to learn. Learn about not only summer time crappie fishing, but learn about the important things in life through the time we spend together pursuing crappie.
If you are reading this I want to encourage you to take any and every opportunity that presents its self to take your child, father, or any other loved one that's important to you and spend some time together on the water. Yes if you take your young one, it may cost you some fish, and yes you may spend time un-tangling amazing messes made out of fishing line. You may even have to take them some toys and let them play until you hook one then let them reel it in. It may not be a hard core day of slab chasing, but I assure the memories you have the potential to make together far outweigh any crappie that you may not catch because your busy un-tangling a mess, or digging a hook out of your boat carpet.
My son and I always wear our swimming trunks during our summer trips, once a trip, we pull all the lines in and head over to the beach, beach the boat and do some swimming together. Yea I would much rather be out chasing the crappie than swiming, espically when the bites real good. But its not all about me, its about having fun and making memories with my son, and if it takes swiming for an hour while we could be fishing than that's what I will do. I have learned that there is nothing more rewarding than watching my son have a good time, and being blessed enough to share it with him. By doing little things like the beach my son has found a great love for crappie fishing and the outdoors in general. I don't say this to toot my own horn, or boast about being a good dad, I say it to encourage you, the reader to take the time and make some memories with your loved ones through your passion of fishing.
Some of the best conversations my son and I have ever had has been on the boat trolling around for crappie. When we are out there its like the whole world stands still, it doesent matter what's going on at my job, or what bill is due when, or what major news event is going on, right at that moment its him and I in a boat sharing quality time.
Now I would be lying if I said its all a benefit to him. Its very much a rewarding and memorable experience every time out for me also. I gain an insight as to who my son really is. What he likes, what he doesent like. We share stories. He teaches me things, and I get the privilege of teaching him somthing from time to time. Most importantly we bond as a father and a child, and as friends. When I'm gone from this world he will always have the memories that we make out there. Like priceless treasures he will always have a part of me and I will always have a part of him all because we took the time to catch a few crappie together.
Don't miss your chance to do the same with the ones you love, and what better time than a nice summer day to do it? So I guess my best advice I can come up with when it comes to summer time crappie fishing is take your children or a loved one out and make it more about the time together than the fish you pursue.
Below are a few pictures of some of our summer time adventures. I can honestly close my eyes with out even looking at them and see them in my mind plain as day, even relive the moments we shared together those days. Do your self a favor and get out there and make some memories, they are priceless treasures that you will always hold dear. Thank you for taking the time to read this, God bless.
Luke and his biggest crappie to date from 6/8/09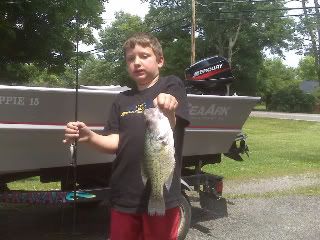 Luke at the ramp after the 100 plus fish day in august last year 8/7/09